The world's best teacher Peter Tabichi has received yet another top recognition as he was listed among the top 100 most influential young Africa.
Tabichi, alongside 9 other Kenyans made it to the list to help put Kenya among the top represented countries on the list. Nigeria has the most number of honourees at 15 followed by South Africa (11), Kenya (9) then Ghana (8).
The nine young Kenyans on the list include Shirlene Nafula, H.E Stephen Sang, Adelle Onyango, Elizabeth Ntonjira, Peter Tabichi, Natalie Robi Tingo, Larry Madowo, Elizabeth Wanjiru Wathutha, Darshan Chandaria, and Beatrice Chepkoech.
Shirlene Nafula
Shirlene is the founder of Crystal River Products, a business that manufactures beauty and cleaning products. She started the business the day after her UK student visa application was denied. Four years later, Crystal River Products makes six bio-based products that meet the Kenya Bureau of Standards' quality requirements.
From mixing chemicals on her mother's dining table, Shirlene's company now rents its own workshop and Shirlene hopes to construct a factory within the next year. The company enjoys nation-wide distribution and receives sales inquiries from neighbouring Uganda and Tanzania. Crystal Products employs a staff of 19.
H.E Stephen Sang
A lawyer and politician, Sang was elected the youngest governor in Kenya at the age of 32. He is also chairman of the Governors' Intergovernmental Relations Committee and the second Governor of Nandi County.
Adelle Onyango
The media personality was honoured for the Adelle Onyango initiative where she works to empower Kenyan women and youth. She was named as one of OkayAfrica's 100 extraordinary African women for 2018; as well as one of BBC's 100 inspirational and innovative women in the world for 2017.
Adelle is the founder of The Adelle Onyango Initiative, an advocacy organization that works to educate the public on issues facing vulnerable populations; specifically, women and youth, while also providing solutions for reducing the barriers to empowerment and economic inclusion so that women and youth can thrive.
Elizabeth Ntonjira
Elizabeth (Lizz) Ntonjira is currently the Senior Corporate Communications Manager, Amref Health Africa.
She was awarded the 2018 International Woman in Tech in the prestigious Women4Africa Awards. She was also awarded the IBM Smart Communicator Award for World Class Media Relations and exemplary communications work in the Middle East and Africa in June 2018. She was voted Leader of the Year in the 2018 Africa Youth Awards.
Peter Tabichi
Tabichi is a Science teacher at the Keriko Mixed Secondary School. He was awarded the global teacher prize for his contribution to society through teaching.
Besides inspiring his students to succeed with very few resources and equipment, Mr. Tabichi, a Catholic Franciscan Brother who teaches chemistry and mathematics, was recognised for giving away 80% of his monthly income to help the poor.
Natalie Robie Tingo
Natalie is a multi-talented social entrepreneur, economist and human rights activist with several awards and recognitions to her name. She believes that every girl should grow free from violence. She works in the same village where she was born, raised, and discriminated against for being 'uncut'.
Larry Madowo
A journalist and media personality, Larry Madowo was the lead for BBC News Africa's new Business Unit and a Global Contributing Columnist for the Washington Post.
He was previously a reporter, anchor, and editor with NTV Kenya, CNBC Africa, and KTN Kenya. He also wrote a column for the Daily Nation and hosted a radio show on Nation FM. He has reported from over 40 countries and interviewed some of the world's most prominent business, political and cultural icons. He was named among the 2018 100 Most Influential Young Kenyans.
Elizabeth Wanjiku Wathuti
She is a 24-years-old conservationist and climate activist. Elizabeth planted her first tree at the age of 7 years old and now is the founder of the Green Generation Initiative (GGI).
Wathuti is a youth council member of the International Reserva: The Youth Land Trust and a board member of the Elephant Neighbors Center which is a grassroots organization that enhances capacity of communities living with wildlife.  She is also one of the regional finalists for Africa for the UN Young Champions of the Earth 2019 due to the impact that her organization which nurtures young people to be conscious of the environment while promoting green projects has had.
Darshan Chandaria
Darshan Chandaria holds an undergraduate Business Management degree from Cardiff University in the UK. He is the Group CEO & a Shareholder of Chandaria Group. He was voted the 2018 Most Influential Young Kenyan in a ranking poll by Avance Media.
Beatrice Chepkoech
It has indeed been a good week for Beatrice Chepkoech as she picks this honour after bagging a gold medal in the IAAF 3000m steeplechase race.
Chepkoech Sitonik is a Kenyan distance runner who specialises in the 3000 metres steeplechase. She is the current world record holder in the event running 8:44.32 in 2018. With that time she became the first woman to break 8:50 and 8:45.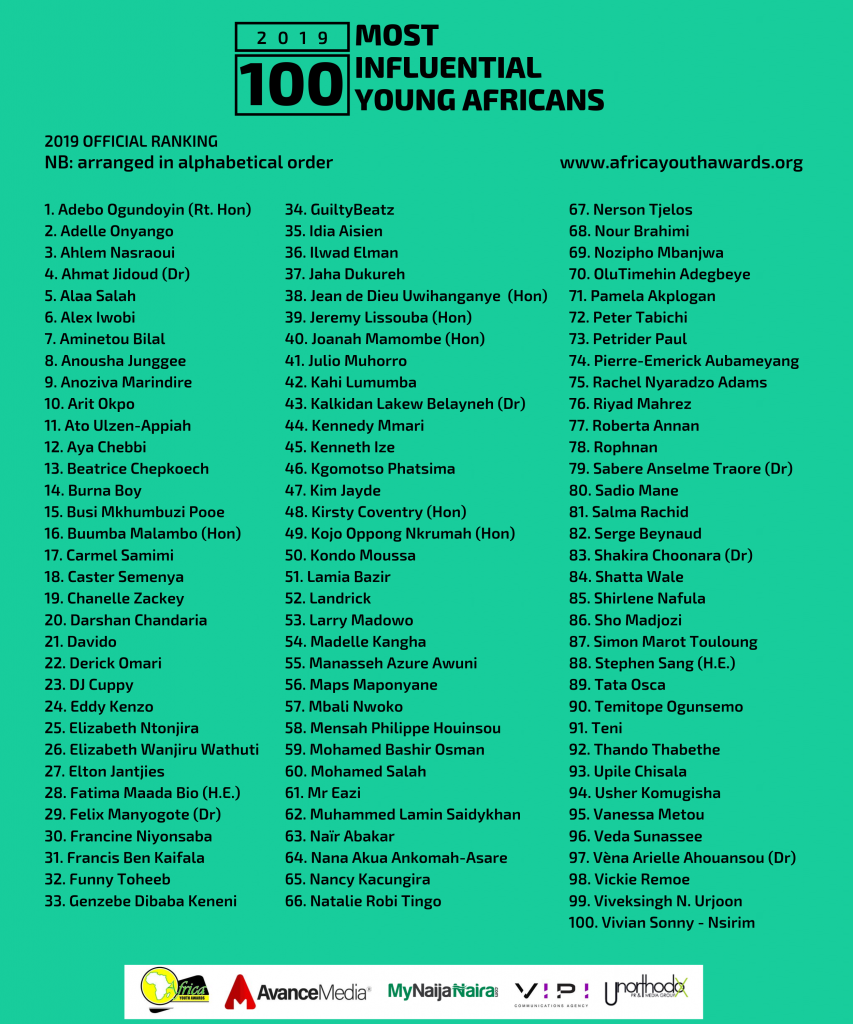 The list which annually recognizes the works of young Africans who have impacted lives across the continent features young people from 32 African countries. Other recognisable individuals who appeared on the list include the likes of Mohammed Salah, Sho Madjozi, Burna Boy, Sadio Mane, Pierre-Emerick Aubameyang, Caster Semenya, Eddy Kenzo, Riyadh Mahrez among others.
Kevin Namunwa is a reporter with Business Today. He is interested in Business, Entertainment, and Sports. You can find him on email at [email protected]