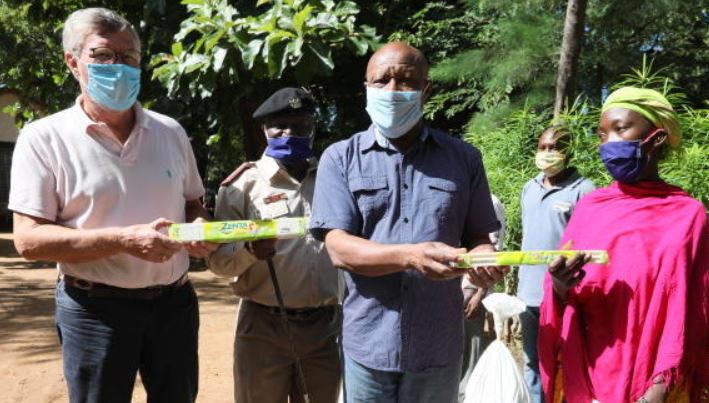 Three hundred fishermen and fishmongers in Shariani village overlooking Kuruwiti beach in Kilifi County breathed a sigh of relief after food donations by well-wishers.
The recipients received maize flour, sugar, rice, beans, cooking oil, bar soaps, buckets for water, and face masks.
Captain (rtd) Peter van den Driest, the treasurer of Kuruwitu Residents Association said that they were moved by the plight of the fishermen living in the area due to Covid-19 pandemic and decided to offer help.
"Whatever we are giving might not last a whole season but at least it can bring a smile and cheer on the faces of fishermen and fisher folks whose catches have plunged to an all-time low," den Driest said at the Shariani Primary School.
"With lockdown due to Covid-19 in place, fishermen restrict themselves to fishing during day time and only along the reefs due to unfavourable sea conditions at this time of the year," said Charles Janji Nyale, chairman of Kilifi County Beach Management Unit (BMU) Network.
He added that fishermen have now resorted to doing menial jobs in the villages because they see no reason to fish yet their major market outlets that are restaurants and eateries remain closed.
"It has been a difficult time over the past couple of months with people unable to make ends meet," added Nyale.
Junju location chief, Mr David Kahindi, and his assistant Mr Runya Mwalimu commended Kuruwitu Residents Association and Vipingo Ridge for the donation which they said will help cushion local fisherfolks against hunger.
"It is just really scary right now, with little or no fish landed and Covid-19 fears looming everywhere and thinking about how to protect the fishing heritage," Kahindi said.
Vipingo Ridge Administration manager, Mr Chilson Lwangu who supervised the food distribution urged locals to ensure that they observe set standards by the Ministry of Health on containing the spread of the novel coronavirus.
"We are all affected and what we need to do to stay safe is to follow all the Health Ministry regulations. We should not be wearing face masks only when we see police officers," he said.
He said that as good neighbours they will continue to offer any possible assistance should there be an urgent need and called on other wellwishers to follow suit.
He said that they were aware that fishing which is the economic mainstay for people in the area continues to face challenges.